Do not Google "preaching as a woman." Trust me, you will regret it. You will be reminded of how many people think differently than you; how they can read the same Word of God and interpret it to say that you are not allowed, capable, commissioned, wanted or encouraged to teach and preach the truths of Scripture. In fact, in one YouTube video I was shocked to read the title "Women pastors are not saved." Yikes! I'm a preacher. Now my salvation is in question.
In my head, and in my heart I know statements like that are absurd. But in reality, I realize that there are people, some who I deeply love and respect as fellow believers and Christian leaders, who think that I should not preach to co–ed congregations because of my gender.
I can react in two ways: Either with the help of the Lord, or with an attitude of entitlement and anger. I choose to react with the help of the Holy Spirit. I have a choice. I cannot harbor resentment towards those who believe differently than I do. I cannot let a seed of bitterness grow in my heart towards those who think differently. I encourage you also to be on guard against that same bitterness. But then, what can I do?
Pray …
I can pray.
I can pray that the Holy Spirit will use me, I can pray for tenderness and forgiveness in my spirit for those who think differently than I do, and I can pray for the Lord's will to be done.
And …
I can remember.
I can remember the women who have gone before and blazed a trail—those who have fearlessly proclaimed the Word of God. Honestly, I wish that in my formative years there had been more examples. Most of my adolescent memories are filled with experiences dominated by male preachers. I remember as young adult being thrilled when there was a woman headlining as the keynote speaker for a major event (shout out to Danielle Strickland). I remember and am inspired when I recall my female peers who boldly preach the Word from Sunday pulpits on a regular basis. I remember and am encouraged by the rich history of women who have proclaimed and preached—Catherine Booth, Phoebe Palmer, Louisa Woosley, Hulda, Priscilla, Junia, Miriam, Mary, Elizabeth, and the thousands of others who have gone before us. When I am discouraged, I remember the women who have honored their calling to preach.
And …
I can preach.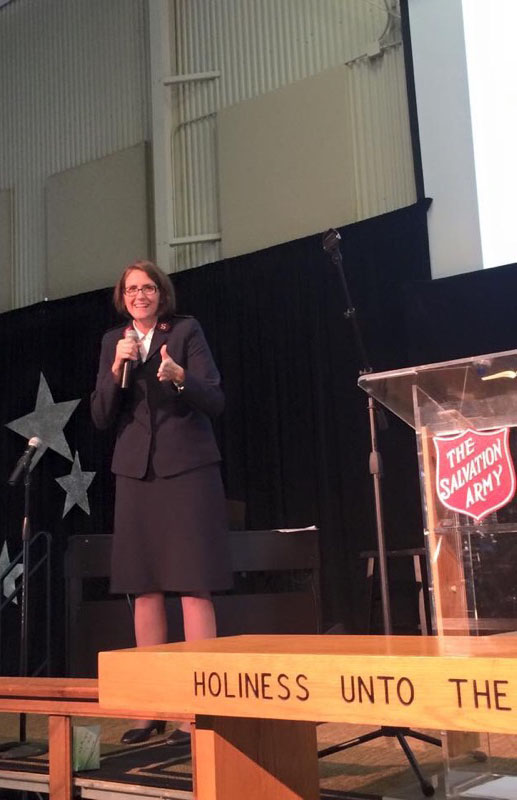 Yes, I can preach. There are fantastic arguments on the Internet and in academic texts that defend a woman's right, privilege and calling to preach the gospel. If you are looking for the biblical (let alone logical) argument, for sisters and brothers who are like minded, check out the resources and links listed below.*
But there is another beautiful reminder of why I can preach. I have the work of the Holy Spirit in me that powers and inspires my ability to preach the gospel. Who can argue with the Spirit? I use my logical brain to understand that I was created and ordained with the ability and the calling to preach, and the leading of the Holy Spirit confirms that truth.
My dear sisters and brothers, for the love of God—literally, for the love of God—speak, write, sing, teach, paint, draw and preach the good news of Jesus Christ until the Holy Spirit gives you nothing else to say.
Satan will use every opportunity that he can to deceive, distract and discourage you from responding to the Holy Spirit. Our greatest defense is to know the Word of God, to be shaped by it and to preach it.
We read in 2 Timothy 4:2–5 (KJV), "Preach the word; be instant in season, out of season; reprove, rebuke, exhort with all longsuffering and doctrine. For the time will come when they will not endure sound doctrine; but after their own lusts shall they heap to themselves teachers, having itching ears; And they shall turn away their ears from the truth, and shall be turned unto fables. But watch thou in all things, endure afflictions, do the work of an evangelist, make full proof of thy ministry."
How do I know what is sound doctrine? By knowing the Word of God. By comparing scripture with scripture, by depending on the guidance of the Holy Spirit, and by always understanding the Word of God through the lens of the Holy Trinity. What 2 Timothy tells me  is to preach the Word with great patience and careful instruction. Now that is pretty clear. Be ready.
Preach …
Whether you are a woman or a man.
Resources*
Why not Women? A Biblical Study of Women in Mission, Ministry, and Leadership by Loren Cunningham, David Joel Hamilton, and Janice Rogers. https://www.amazon.com/Why-Not-Women-Biblical-Leadership/dp/1576581837
Resources for Women Preachers by Gail Wallace
https://juniaproject.com/resources-for-women-preachers/
1 Timothy 2:12 – Interpreting Scripture by Gail Wallace
https://juniaproject.com/defusing-1-timothy-212-bomb/
What is this Woman Doing Preaching in My Bible? By Sara Ronnevik
https://www.cbeinternational.org/blogs/what-woman-doing-preaching-my-bible
Top Featured Image: Colonel Janice Howard –  Arise & Shine Women's Conference – Rosemont, IL 2018