Scripture
"When God's people are in need, be ready to help them. Always be eager to practice hospitality" (Romans 12:13 NLT). "Share with God's people who are in need. Welcome others into your homes" (Romans 12:13 NIRV).
What is Hygge?
Our education program considers the beauty and traditions of Scandinavian, Nordic and Baltic homes and culture. The word "Hygge" [hooga] is a Danish and Norwegian word, which is used to describe the importance of creating an environment of peace, contentment, warmth and welcome. In America, we get that feeling when we come home after a long trip and say, "Ah, home, sweet home!" We have to be intentional about creating a place of calm, sweetness, refreshment, peace and joy both for the body and for the soul. Hygge must be a deep longing in our hearts for release and renewal. Paul must have thought so too because he instructed all who lived in Rome to practice hospitality by welcoming others into their homes. Whether the home is tiny or large is not important. It's how you create a space for people to slow down and let the worry of the world go for a little while. Invite others into this kind of space and you will be blessing them with calming sweetness for their mind and soul.
Commissioner Nancy Moretz writes: "I grew up in a very humble home. My parents struggled to make ends meet. They experienced the Great Depression as teenagers, yet they acquired a kind of resilience that carried them through their own personal needs and family challenges. We didn't always have lots of groceries on hand, but there was always a tea bag or a small pot of coffee ready to cook on the stove. I recall Dad saying to me, 'If you have room in your heart, you have room in your home.' When my husband and I were appointed to the Times Square, New York Corps as young lieutenants, Dad reminded us, 'Keep the coffee pot on. People will come. It's a caring, loving, hospitality kind of evangelism.' It might be why Jesus loved so much the home of Mary, Martha and Lazarus. I think that Jesus understood that we need Hygge because He invited us to 'Come to Me, all of you who are weary and carry heavy burdens and I will give you rest' (Matthew 11:28)."
Norway
Major Betty Anderson writes about Norway, a country of welcome and peace: "The highly revered Nobel Peace Prize is awarded in Norway, and their Independence Day Parade is one of peace and family and joy rather than a demonstration of military power. John in The Revelation speaks about 'the healing of the nations' (Rev. 22:2). At home, in our cities, in our nations, in our world—the Lord is the Prince of our peace and will heal. Norway has always maintained a traditional policy of neutrality but were forced it into war when the Nazis invaded the country on April 9, 1940. For five long years the Nazis occupied Norway and imposed many restrictions and demands. Families lived in fear; their homes were regularly searched. When the war ended and the Nazis left, everyone dug up their precious Norwegian banners and went into the streets where they formed a parade of joy and thanksgiving, carrying their symbols of freedom and love of peace and home. As peace is important in Norway, so should it be important for us to create an atmosphere of peace within our home."
A Warm Scandinavian Home
At the beginning of October in Scandinavia, sunlight diminishes with fewer daylight hours. Residents of these countries—Sweden, Denmark, Finland and Norway—experience shorter hours and days. They have many windows to bring the natural light in and small crystal pendants hanging in the center of them to capture the light. But even in these darker days, when you enter a home in Scandinavia you will see a wooden carving with the hand painted word, Velkommen. Yes, all are welcome and all are greeted! The aroma of a Swedish cup of coffee is a welcoming and warming sign. There is always time for coffee! A Hygge home celebrates friends as a priority and sets aside time to invite them in for "coffee and …" This fellowship can take place in the kitchen, dining room or living room.
Christmas time, Jul, is an amazing time in Scandinavia with lots of traditions-–cookie baking, visiting and celebrating with family and friends. The candle light, the brightness of the snow on the tall evergreens, the ice on the fjords, the Northern lights on display in the Artic speak of the sure and certain truth that "the Light of the world has come."
Sweden celebrates the traditional Lucia Fest. The story of Lucia began in Italy where she was born into a wealthy family. Her name was derived from the Latin word for light, Lux. A devoted Christian, Lucia dedicated her life to God. She was committed to sharing the Light of the world and distributing her wealth among the poor. When her mother urged her to marry a pagan from a wealthy family, Lucia refused her suitor. When asked to sacrifice to idols she replied, "I know no other God but my Father in Heaven and no other Savior than Jesus Christ." The unsympathetic suitor had Lucia brought to trial where she was condemned to death. She was martyred on December 13, 304 AD.
The Vikings celebrated Lucia Day on December 13, winter's shortest day and longest night. Daylight gradually returned to conquer the long dark days. Today, the oldest daughter in the family portrays Lucia by wearing a gown of white with a red ribbon around her waist. On her head she wears a crown of lighted candles set in a wreath of evergreens. She carries a decorated tray filled with homemade goodies—Lussekatter, Pepparkakor, Spritz—and a pot of steaming coffee. Outside each bedroom door she sings the familiar melody "Santa Lucia" and then enters the room with "Kaffe pa sangen." Santa Lucia represents courageous Christian testimony and a radiant, uncompromising faith.
Prayer for Our Homes
Take a few moments to pray specifically for the homes and families of the women present.
Share
How have you experienced Hygge in your own home or in someone else's home?
Is Hygge practiced in your culture?
Pray together asking God to help you create a special environment in your home for family or friends.
Read The Salvation Army Yearbook and note the number of corps and services the Army provides in Nordic territories and pray for them.
Closing Thoughts
Scandinavians are wonderful people. The Nordic countries are amazing places with rich cultures. They have royal families with kings and queens. They love all that is natural and bright. They eat well—foods like fish, beef, chicken, yogurt, cheese, salads, berries, vegetables and lovely open face sandwiches. They value children and peace, sports and the Olympics. They teach us, "If you have room in your heart, you will have room in your home" – Hygge.
Benediction (The Songbook of The Salvation Army #1035/ Tune #7)
O Father, let Thy love remain,
O Son, may I Thy likeness gain.
O Spirit stay to comfort me,
O triune God, praise be to Thee. Amen
Game
Quiz – Scandinavia, Nordic and Baltic Countries
This country is known as "the land of the Midnight Sun" and is the northern most country in Europe. (Norway)
The capitol of this country is Helsinki. (Finland)
The capitol of this country is Reykjavik. (Iceland)
The Volvo and SAAB automobiles come from here. (Sweden)
Artic reindeer and the most families who are reindeer herders live here. (Norway)
You will find lots of "Moose Crossing" signs in this country. (Sweden)
Lego toys were created here. (Denmark)
The pacemaker and the computer mouse come from here. (Sweden)
In this country, a flag is flown outside when it is your birthday. (Denmark)
In this country's polar region, the sun shines for only three hours or less each day in winter. (Norway)
Let's Sing! Song Suggestions
"God is Good, All the Time" – This is a happy song by Don Moen, set to a contemporary Viking style rhythm and is lots of fun to sing. It can be found on YouTube®.
"Peace, Perfect Peace," written by Erik Leidzén, can be found in several Salvation Army YouTube presentations. It is published in The Salvation Army Songs of Faith, #87. Erik Leidzén was born in 1894 in Sweden. An outstanding musician, composer, teacher and bandmaster, he played in both the Danish and Swedish Staff Bands and has had a great influence on Salvation Army music.
"His Love Remains the Same," by Generals John Larsson and John Gowans, was written as a part of the musical "Hosea." The music of Gowans and Larsson stir the heart and also provide that sense of Hygge—inviting us all in to a place of spiritual comfort and warmth. "His Love Remains the Same" is published in The Salvation Army Songs of Faith.
Finlandia – "Be Still My Soul" with music by Jean Sibelius and words by Katharina Von Schlegel is published in The Salvation Army Young People's Songs, copyright 1951. The tune is known worldwide and has been a blessing through many generations. It provides a calming sense and helps us to breathe easier when the weight of the world is upon us. You can find a number of versions of this song on YouTube.
"A Swedish Cup of Coffee"—words written by Colonel Edward Fritz
Tune: "There's Nothing Like An Army Cup of Tea" (Larsson/Gowans)
There's a joy for all in going to the Army
At Twaan we can sing and clap and pray
But the truth you ought to know is the reason that I go,
It's to taste again that Swedish cup of coffee!
Oh there's nothing like a Swedish cup of coffee,
Oh there's nothing like a Swedish cup of coffee!
For the brew is piping hot
Mit the egg shells in de pot.
Oh, there's nothing like a Swedish cup of coffee.
When to Heaven's gate I come to meet my Maker,
And He welcomes me to stop and rest a spell.
I expect that He will ask,
"Cream and sugar?" and He'll pass
A steaming, hearty Swedish cup of coffee!
Craft Time – Flettede JuleKurver – Woven Christmas Heart Baskets
Many people in Scandinavia make paper heart baskets to hang on the Christmas tree. The baskets are often filled with candy and employ the national colors of the country. You can find a tutorial on making these baskets on Pinterest. Type "Swedish Woven Heart Paper Craft" in the search engine.
Recipes to Share
Norwegian Fruit Soup (may be served warm or cold) – From Major Anderson's aunt, Tante Emma
3 lbs. of peeled diced apples cut in half
1 – 7 oz box of Sunsweet pitted diced prunes
1 – 7 oz box of raisins
1 – 29 oz can of sliced peaches in natural juice—cut in half
1 – 29 oz can of sliced pears in natural juice —cut in half
1 bag of frozen sliced strawberries
¾ cup quick cooking tapioca
16 oz can "All Natural Simply Mixed Berry Juice Drink"
In a 5-quart pan, combine apples, raisins and prunes. Add water to cover ¾ full. Cook until apples are almost done. Add ¾ cup tapioca, a little at a time while stirring. Stir until it begins to boil. After it has cooled, add juice and canned fruit. Serve warm or cold.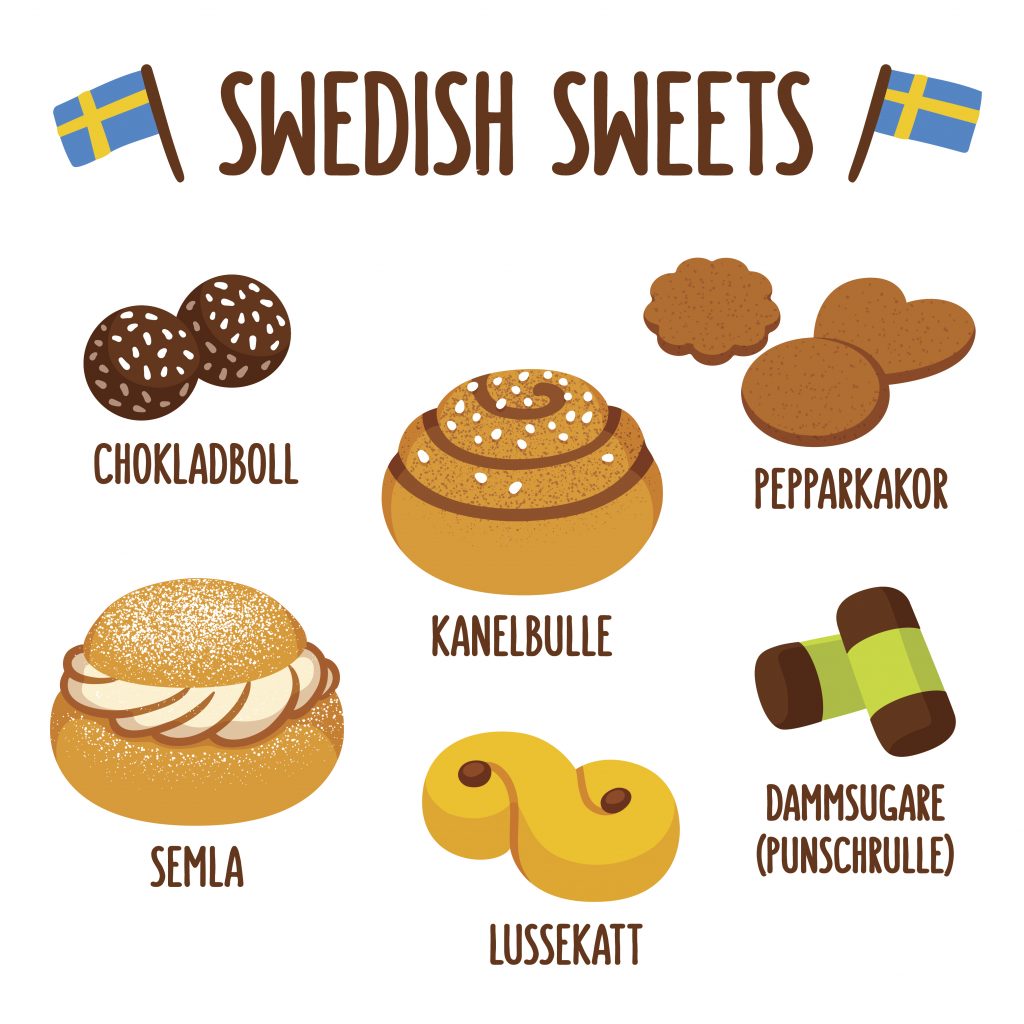 Pepparkakor  (Swedish Ginger Cookies) – From the kitchen of Lt. Colonel Ruth Avery
Sift together and set aside:
1 ½ cups sifted flour
1 teaspoon baking soda
1 ½ teaspoon ginger
1 teaspoon cinnamon
¼ teaspoon cloves
Cream together:
½ cup butter
¾ cup sugar
Add gradually, beating thoroughly after each addition
1 egg, well beaten
1 ½ tsp dark corn syrup
Blend in dry ingredients in fourths and mix thoroughly. Chill for several hours.
Remove some of the chilled dough and place on a lightly floured surface. Roll out about 1/16 inch thick. Cut with lightly floured cookie cutters into various shapes. Transfer cookies to cookie sheet. Repeat with remaining chilled dough.
Bake at 375 degrees F – 6-8 minutes.
Carefully remove cookies to cooling racks to cool completely. Makes about 7 dozen
Norwegian Waffles –  From the kitchen of Agathe Kristiansen
Shared by Majors Ken and Shirley Kristiansen
4 eggs
1 ¼ cup sugar
2 cups flour
2 teaspoons baking powder
½ teaspoon baking soda
1 pint sour cream
1 teaspoon cardamom
Combine baking soda in sour cream. Beat eggs and sugar and then add sour cream mixture. Add flour, baking powder and cardamom. Stir in melted butter mixture using a whisk or hand mixer. Bake on waffle iron.
If time is short– you can find many of these food items already prepared at Ikea or the International aisle of many grocery stores.
**This program was co-authored by Commissioner Nancy Moretz