Program Focus
Christ–centered friendships give us hope, trust and love. Jesus is our example.
Scripture
Proverbs 27:9
John 15:13
Atmosphere: Coffee Themed
Set up a coffee bar to create atmosphere and use as part of a refreshment time. Even if coffee is normally served at the meetings, make it different by adding a few special touches—specialty creamers, sugar cubes, flavored syrups, whipped cream. Have some sugar and caffeine-free options for those who need to avoid these ingredients. Provide tea for those who don't drink coffee.
To continue the coffee bar theme, think about the options served at your favorite coffee place. Go sweet with biscotti for dunking, a variety of donut holes and coffee cake. A less sweet, more savory option could be a variety of bagels and toppings. For the finishing touch, add a chalkboard (or portable whiteboard) with the menu. Use paper cups and write names and drink orders (even if it's just regular or decaf) on the side of each person's cup.
Centerpieces
Fill coffee cups with coffee beans and add a votive candle. As the candle warms the beans, the delicious aroma of coffee will begin to fill the room. Or use small mason jars or small bowls as the containers.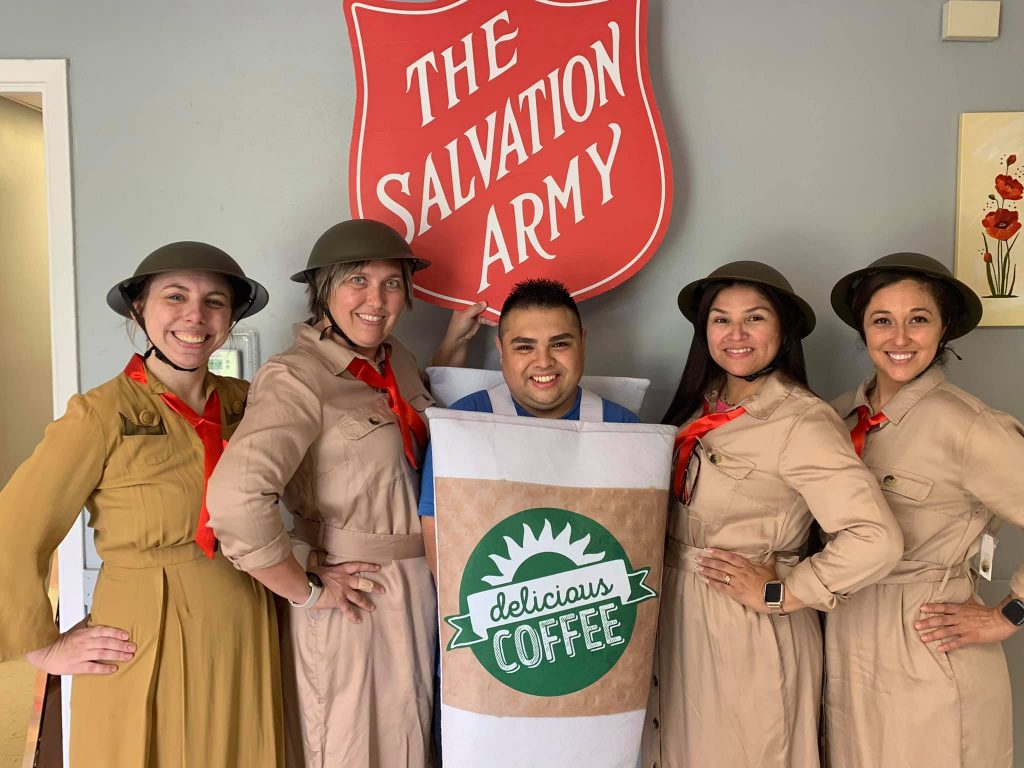 Craft Idea
Personalized Mugs
Buy plain mugs from the dollar store or Michaels and let each person decorate their mug. Permanent markers in a variety of colors are the simplest way to do this, but check Pinterest or other craft sites for a variety of ways to customize a mug.
May I Take Your Order
Match the coffee with the description.
| | |
| --- | --- |
| Espresso | 1.     One shot of espresso mixed with chai tea |
| Mocha | 2.     Equal portions of espresso or brewed coffee and steamed milk |
| Latte | 3.     Three equal parts of steamed milk, foamed milk and espresso |
| Cappuccino | 4.     One part espresso with three parts steamed milk, plus a little milk foam on top |
| Americano | 5.     A cold espresso drink with sugar, milk and other flavorings to make a drink similar to a milkshake |
| Café au Lait | 6.     Black coffee made by forcing steam through pressurized coffee bean. There is no milk in this drink. |
| Dirty Chai | 7.     1/3 espresso + 2/3 steamed milk mixed with chocolate syrup |
| Frappe/Frappucino | 8.     A single shot of espresso added to a cup of hot water |
Answers
Espresso—6
Mocha—7
Latte—4
Cappuccino—3
Americano—8
Café 'au Lait—2
Dirty Chai—1
Frappe/Frappuccino—5
Prize suggestions:  bags of flavored coffee, small bag of chocolate covered espresso beans, cool coffee mug.
Field Trip
If the group enjoys field trips go to a coffee shop for a demonstration and taste test.
Sharing Coffee Together
When you think of coffee, chances are you also think of other people. We often say, "Let's go for coffee." "Come on in, the coffee pot is on." "Let's take a coffee break." Maybe you have that first cup of coffee in the morning alone, in your pajamas, but most people also think of coffee drinking as a social event. You invite a friend to meet you at a local coffee shop so you can talk and catch up. You go to coffee break with a coworker and enjoy a few minutes of conversation in the middle of your work day. You invite a distressed friend into your kitchen and automatically make a pot of coffee while you listen to their story. Even in local or national disaster situations, one of the first things anyone does is start the coffee pot.
Although the phenomenon of a coffee shop on every corner might seem like a modern thing, coffee drinking has been a social event for centuries. There are records of coffeehouses as far back as the 1400s. Because meeting friends for coffee has been so popular over the years, some governments have banned the drinking of coffee for fear that groups would organize rebellions while sharing their steaming drinks.
There is just something about sharing a cup of coffee that brings friends together. Maybe it's because hot drinks take a little time to consume. After all, you can't just gulp down your steaming hot coffee and keep going. Maybe it's because the ritual of grinding beans, waiting for the coffee maker to finish, and stirring in the extras opens time for conversation. Whatever it is, it seems that coffee and friendship go together.
When we share a cup of coffee with a friend, we feel restored and refreshed. And that's not just because of the caffeine. When you regularly sit down to coffee with a friend, like we do in most women's ministries meetings, we share our lives, one cup at a time. Friendships are built, trust grows, hope is restored, love deepens. Even when it's inconvenient or when it requires time we might have used for something else, taking time for a cup of coffee with a friend is a joy and might also be a ministry to someone who needs a listening ear and a kind word.
In the gospels, we often see Jesus and His disciples sharing that kind of fellowship. They didn't have cups of coffee, but they often paused for a drink or a meal together. In fact, Jesus Himself served them at their last meal together. During the last meal they shared together before Jesus went to the cross, He tied a towel around His waist and waited on the disciples, even washing their feet (John 13:1–5). As they shared that meal, Jesus talked to the disciples about how their lives would be when He was no longer with them. He urged them—in fact, He commanded them to love each other (John 15:12). The love He was describing was self–sacrificial. He even used His own sacrifice of laying down His life for His friends as a model for how His followers must love one another.
Today, as we share a cup of coffee, take the time to really listen to each other. Share words of encouragement around the table. Go around the table and pray for the person next to you. With Jesus as our example, we can brew friendship and share hope one cup at a time.