Refreshments
Serve snacks that can be purchased without plastic packaging—fruits, vegetables, bakery goods and deli items. Most grocery store delis will allow you to use your own food storage containers to bring home sliced meats and cheeses to create a beautiful charcuterie board. Include baked items made using ingredients purchased in the bulk section of the store. Use eggs and milk that come in recyclable or compostable cartons. Beverages can include fresh squeezed lemonade, iced loose–leaf tea (since most brands of tea bags are made of polypropylene plastic) and fruit or cucumber infused the water.
Decorations
Decorate with plants from a local nursery. Use mason jars as vases for floral arrangements.
Activities
Guest Speaker
Invite someone to speak about the importance of recycling, practical changes we can make to reduce waste or other related topics that the women may be interested in. Some cities have zero waste shops with owners who are passionate about this subject and would gladly make a presentation.
Reusable Bags
Purchase a variety of reusable bags suitable for fruits and vegetables to show the women what is available. Many varieties are available on Amazon.
Service
Create "Zero Waste" starter kits for family and friends. These make perfect gifts. Items to include stainless steel straws, bamboo silverware, reusable grocery bags, reusable water bottle or tumbler, bamboo toothbrush, cloth napkins and mason jars.
Plant a Tree for Earth Day (April 22)
Invite the women to contribute to the purchase of a tree that can be planted on the corps grounds or at a nearby park. Be sure to check in with the local Parks Department beforehand.
Local Beach/Park Clean Up
Schedule a day and time for the group to clean up a local park or beach. Provide gloves, trash bags and reach grabbers for easier pickup. Don't forget your reusable water bottles to hydrate while you work.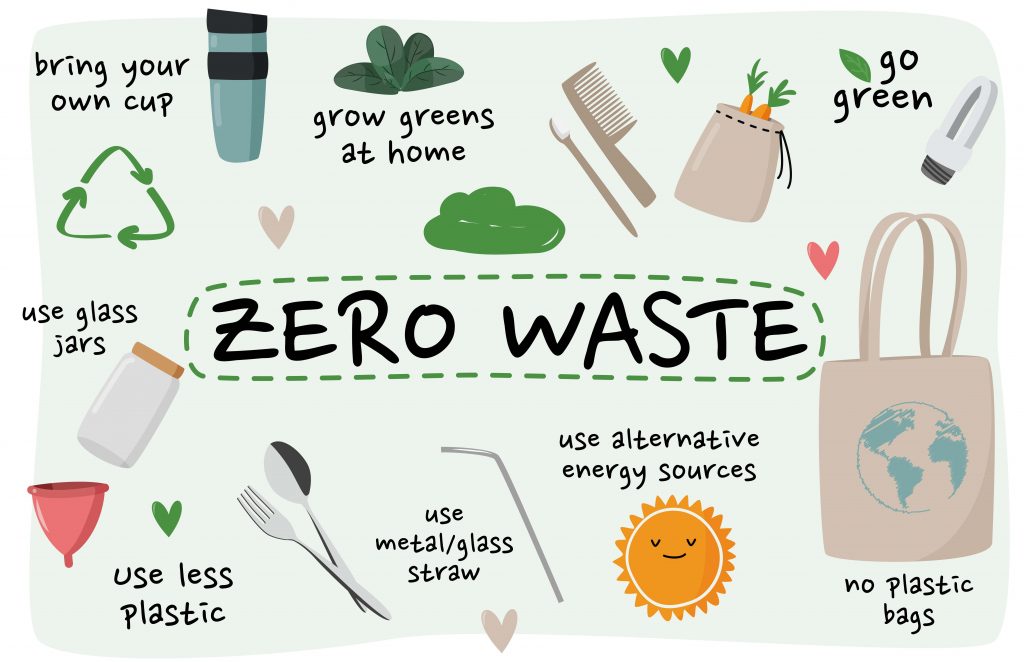 Resources
Video: "20 Ways to Reduce Waster | Easy Sustainable Lifestyle Hacks" https://www.youtube.com/watch?v=kXgELGBuMfA
Video: "More Ocean Less Plastic" | Lia Colabello | TEDxCharleston
https://www.youtube.com/watch?v=6DQjRVnnUHo
Video: "DIY Zero Waste Kit" | Minimalist Life
https://www.youtube.com/watch?v=p_nF8GgKNkM
Blog: My Plastic Free Life
https://myplasticfreelife.com/plasticfreeguide/
Website: Less Plastic
Instagram:
@lifewithoutplastic
@zerowastehome
@packagefreeshop
@trashisfortossers
@zerowasteinspo
Watch Over It
"The Lord God placed the man in the Garden of Eden to tend and watch over it."  (Genesis 2:15)
In the beginning, God spoke the world into existence. His word created life and order. He established holy relationships between all living things; God with man, man with creation and creation with God. Yet as a result of the Fall, each of these relationships suffered with no hope for reparation (Gen 3:14–19).  That is until "The Word [Jesus] became flesh and made His dwelling among us" (John 1: 14).
With Him, Christ the Living Word, brings life (John 10:10) to all those who receive Him. As those who have received the abundant life He came to give, we have been given the ministry of reconciling the world to God (2 Cor. 5:17–19). And as daughters and heirs with Christ we have the privilege of partnering with the Father, Son and Holy Spirit in the re–creation as He seeks to restore the relationships broken by the Fall (Col. 1:20, Eph. 1:10).
The idea of "going green" has been a hot topic for the last several years. But we should be careful not to treat it as a passing trend or a hobby for those with an affinity for nature. Creation care is God's original design for us as humans, to "tend and watch over" the garden. It is the active part we play in seeing Christ's Kingdom, the New Heaven come to fruition. It is an act of worshipful obedience to our Creator who has made a way for us to be in a relationship with Him once again, restoring our relationship with one another, and with creation itself.
When we make the conscious choice to ditch the plastic for a sustainable alternative, we are participating in God's mission to restore the earth to its original "very good" status. We take up our heavenly identity as good stewards of creation when we choose to recycle instead of risking our waste taking up space in a landfill or polluting our oceans and harming the creatures that make their home in them. We honor God when do our part to see the earth healed by taking small, but intentional steps toward a more sustainable lifestyle.
In what ways can you incorporate "Creation Care" into your everyday living? Perhaps it's brewing coffee at home or taking your reusable tumbler to get your morning cup instead of using a paper cup with a plastic lid from the drive–thru coffee line. Or it might be keeping reusable grocery bags in the trunk of your car so that there is never an excuse to take the plastic ones at the checkout line. Or it may be simply asking for paper instead of plastic. You can educate your family on the importance of recycling and make commitments to be more intentional about processing your waste in a sustainable way. Whatever your personal steps look like, consider it your commitment to doing your part to reconciling the world to our awesome Creator God, giving Him all the honor and glory in the process (Col. 3:16–17).