"Just be … still." "Be still, be calm, see, and understand I am the True God. I am honored among all the nations. I am honored over all the earth."

(Psalm 46:10, The Voice)
Subject
He writes our new story that is yet to be written each New Year.
Related Scripture
"Wherefore seeing we also are compassed about with so great a cloud of witnesses, let us lay aside every weight, and the sin which doth so easily beset us, and let us run with patience the race that is set before us. Looking unto Jesus the author and finisher of our faith; who for the joy that was set before Him endured the cross, despising the shame, and is set down at the right hand of the throne of God." (Heb. 12:1,2. KJV)
Worship Table
Set up the worship table with a variety of books (different versions of the Bible and books written by Christian authors). Be sure to place the Bible in the center.
Give Away
Purchase journals from the dollar store along with a bookmark. Encourage the women to use their journal to record the books that they read along with any comments about the main theme of the book and any lessons learned.
Book Club Sign–Up
Ask the women if they would be interested in starting a book club. Display the first book to be read and have a sign–up sheet with all the pertinent information regarding the club—beginning date, time and location.
Craft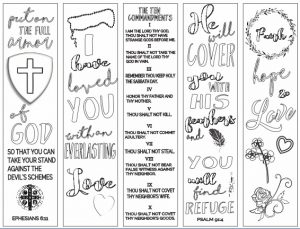 Word Search
Create a word search puzzle on the theme "God the Author." You can find applications for creating a word search on the Internet.
Meeting Outline
Welcome
Call to Worship—Psalm 119:9–16 (NLT)
Opening Prayer
Scripture Sword Drill—Hebrews 12:2, Genesis 5:1, Exodus 24:12, Exodus 31:18,
Exodus 32:6, Matthew 4:4, John 20:31, Romans 4:24, Romans 15:4, 1 Peter 1:6
Song #803 "Holy Bible, Book Divine" (to the tune of Jesus Loves Me)*
Devotion
Song #152, "Tell Me the Stories of Jesus"*
Closing Prayer
*The Salvation Army Song Book
New Year's Resolutions
Have you made any New Year's resolutions? Maybe you want to get more organized or perhaps return to college and get a degree. You may have decided to be kinder or to spend less money. Or perhaps you have resolved to read more books. Has anyone resolved to write a book?
What kind of books do you like to read? Mysteries? Biographies? Fantasies? Love Stories? Do you have a favorite author? I have resolved on many a new year to read more books … but never to write one.
God has many titles—Father, Provider, Sustainer, Counselor and Author. We read in Hebrews 12:1, 2 that God is, "The author and finisher of our faith." Webster's dictionary defines an "author" as one who is "the writer of a literary work (such as a book)." Or "one who originates or creates something." We acknowledge that God is the Author of the most read book in the world—the Bible. But have you acknowledged that He is the Author of your life? He has written our existence into being. Each of us is a unique story … a story of love and grace. He has written our talents, our passions, our convictions and our personalities. None of us is the same. Even twins are not exactly alike; each one has a different story.
In 2 Corinthians 3:2-3 Paul writes, "You yourselves are our letter. You are written on our hearts. Everyone knows you and reads you. You make it clear that you are a letter from Christ. You are the result of our work for God. You are a letter written not with ink but with the Spirit of the living God. You are a letter written not on tablets made out of stone but on human hearts." (NIRV)
Though God is writing the story, we often try to "edit" our story by inserting our own thoughts and ideas, making our own choices. Sometimes God allows it to stand and other times He rewrites or edits and changes the outcome of the story. When we allow God to do this, we receive His greatest blessings. Throughout your life, God has been creating you … authoring your identity. He has been shaping your life through challenges and accomplishments. He fashions us to be more and more Christ like. The less we "edit" the more we become the woman God intended us to be.
Your story will not be complete until the day you stand in His presence. How will your story end? I pray that mine will end by hearing Him say the words, "Well done, thou good and faithful servant."