Decorations
Have a small tree or stand set up with silly and fuzzy pairs of socks hung on it. Hang a clothes line across the room and pin socks to it. At each table have a small laundry basket for each woman in the group. This will be used later on in the program.
Introduction
Colder weather is here and we find ourselves digging out our favorite comfy socks. Socks provide comfort, warmth and a protective layer over our feet. The absence of socks make feet susceptible to bacteria and fungi, which cause skin infections and blisters. Socks are an important article of clothing in our wardrobe that we often take for granted.
Service Project: Organize a Sock Drive
This project can be done in two meetings. The project is hosting a sock drive for individuals who are in need this season. At the first meeting introduce the project and decide on a deadline when it will conclude. This could be two weeks from the start date.
First Meeting
Distribute the sock baskets and invite women to decorate them. The basket will be used for the women to collect socks from family, friends and neighbors.
Create a flyer and an announcement for Sunday that introduces the community and corps members to the sock drive effort and encourage them to participate.
Share interesting facts about socks—Happy Toes https://www.happytoes.com.au/Sock_facts_s/88.htm
Craft: Tube Sock Heating Pads- https://www.youtube.com/watch?v=xVbvcLmYXwE
Second Meeting
Gather the collected socks. Prepare them to be delivered. Wrap a pairs of socks in ribbon and attach an encouraging note. As a group, pray over the socks and for those who will receive them. Then take your beautiful feet and deliver them to the veterans/shelter/ARC while sharing the Good News of Jesus!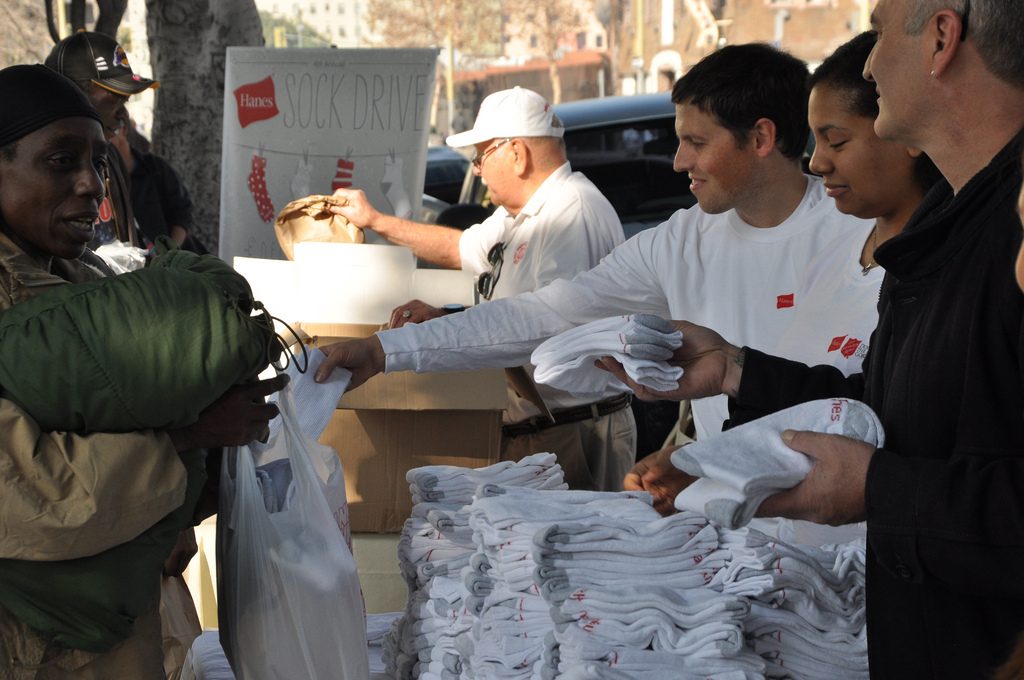 How Beautiful Are the Feet of Those Who Bring Good News!
Read Romans 10:15.
How many of you like feet? How they look or how they smell? If I took off my socks right now, would you want to smell my feet? Of course not! Feet usually are not acknowledged as beautiful parts of our body. I have lots of feet in my household that come in all different sizes and smells. Taking care of their feet is not what I would call a beautiful task. Feet can smell, they can be dirty and sometimes have fungus!
But do you know who likes feet? God does. Paul says that some people's feet are beautiful. In Romans 10:14–15 we read " How, then, can they call on the one they have not believed in? And how can they believe in the one of whom they have not heard? And how can they hear without someone preaching to them? And how can anyone preach unless they are sent? As it is written: "How beautiful are the feet of those who bring good news!" Paul didn't come up with this idea by himself. He was quoting from Isaiah 52:7: "How beautiful on the mountains are the feet of those who bring good news."
God declares that the feet of those who bring people the Good News about Jesus are beautiful. It doesn't matter what those feet look like. He doesn't care if they have long toenails, are smelly or yellow. God says those feet are beautiful when they are used to bring the good news of His love to others.
Have you told anyone about God? Have you prayed with someone recently? God loves when we do this. He wants us to share the Good News about Jesus and show His love to those we meet. The feet that carry us to such opportunities are precious, and God says they are beautiful.
This week look for opportunities where can use your beautiful feet and share the Good News of God's amazing love.
Resources
Caring for Homeless Individuals with Shoes, Socks, and Toys