Painting Class Night
Supplies needed
Canvas (size is up to you, quantity based on class)
Table top easels (nice, but not necessary)
Various size paintbrushes
Acrylic paints
Paint trays or cups
Cups of water
Tablecloths (so you don't get paint on the tables)
Smocks (old men's shirts work well)
Paint markers/permanent markers
Bibles
Pencils
Rulers
Speaker for background music
Set Up
Set up tables and chairs, making sure that everyone has an adequate amount of space. Try to place the tables in such a way that everyone can see the leader. Place an easel, smock, canvas, paint tray, cups of water, paint and brushes at each chair.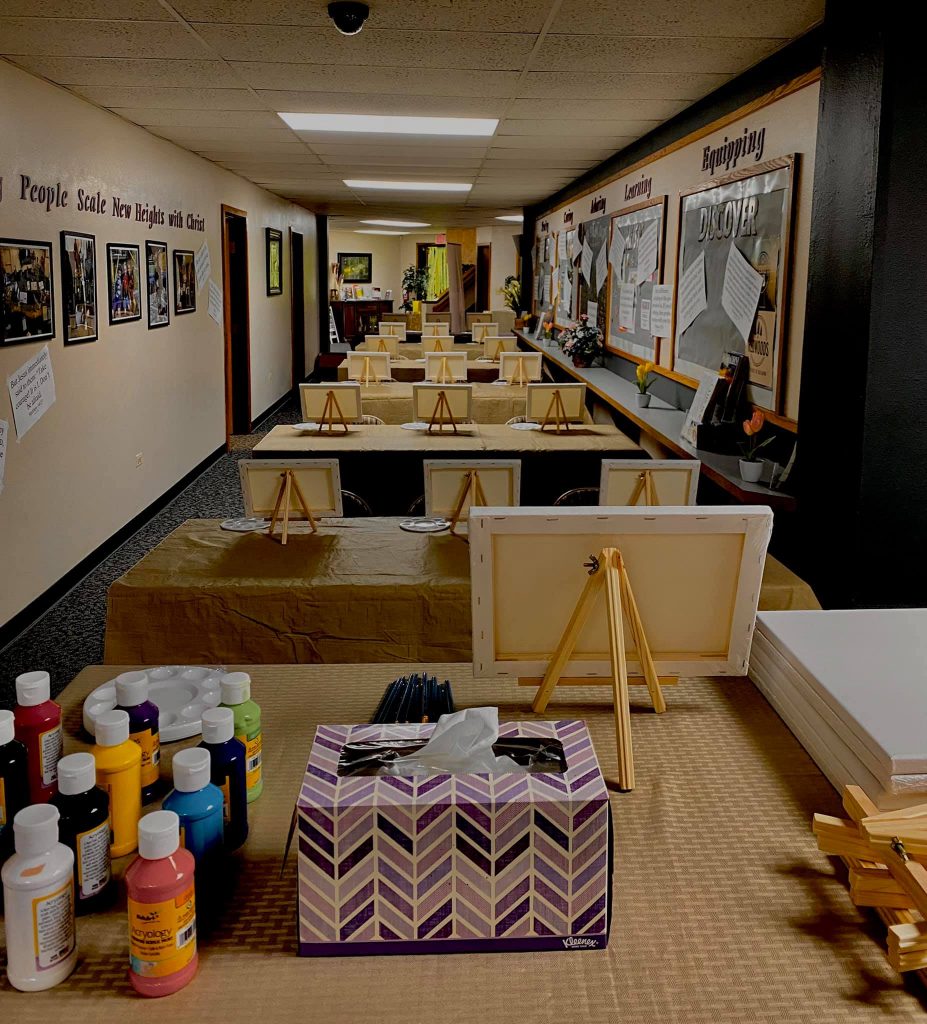 Refreshments
Set up a separate table for the refreshments. Make them simple like pretzels, cookies, juice, coffee and tea. You can also poll the women before and include some of their favorite snacks.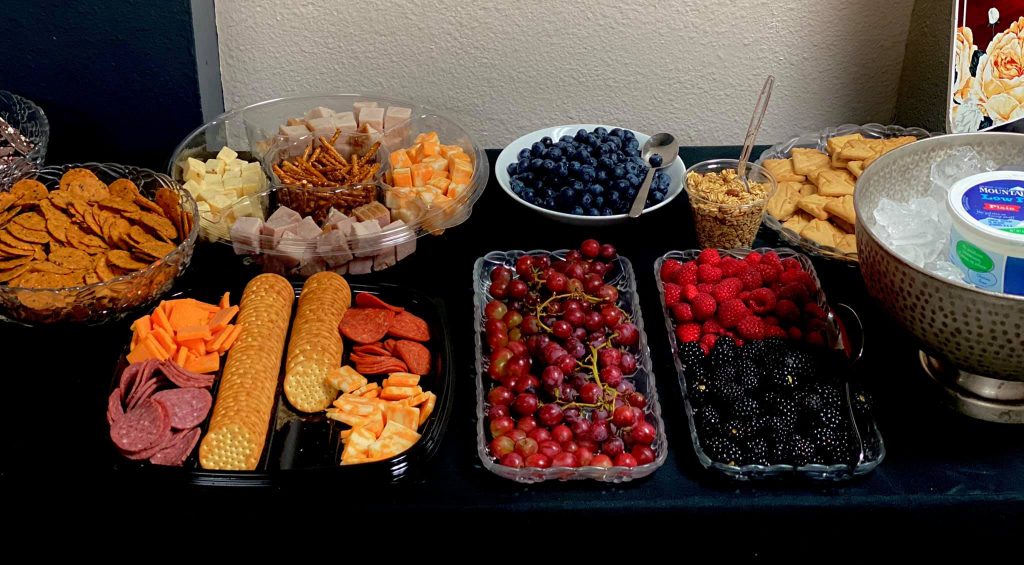 Instructions
A paint night is a perfect way for women to express their creativity. It's a means of worship and a great time of fellowship. Pick a simple painting such as a flower, tree, cross, or the sun (see the sample). Have a finished picture or canvas of the painting chosen for the class to see.
It's easiest to do if you have someone leading the class. You can also find step–by–step instructions on Pinterest for various projects. Show the video and then lead the women in each step so that no one falls behind.
Once the women have their paint colors, start with the background of the painting. It's easiest to have a solid background, like on the sample. They can add swirls or have brushstrokes in different directions to make it their own but stay away from detailed and tricky backgrounds.
Once the background color is completed you can use a blow dryer on low heat to help the background dry faster. Encourage the women not to rush, but just enjoy the experience.
The women may want to write something on their painting. It could be one word (breathe, peace, love) or a scripture verse. Once they picked it, invite them to write it out, using a pencil, the way they'd like it to appear on the painting. Once they are satisfied with the placement, have them go over it with either a paint marker or permanent marker. Trying to paint lettering can be very difficult and stressful; therefore, it is easier to use a paint or permanent marker.
Further instructions and samples of a simple heart design can be found here. 
Abstract Heart Directional Video 
What Me? Creative!
Did you ever say you're not a creative person? I've heard so many people say, "I'm not creative. I can't do this; I can't do that." I always get sad when I hear that. Why? Because God of the universe, the most creative being in the world, created you. You are creative. You are the artistry of Christ. Ephesians 2:10 reminds us that " We are God's masterpiece. He has created us anew in Christ Jesus, so we can do the good things He planned for us long ago." God is the artist and He is creating you, molding you into His beautiful masterpiece.
Think about the time and effort that went into the painting you created tonight—every brushstroke, every smear of paint. And your painting only took an hour. You're proud of it. Your hard work has paid off. Consider how much more time and effort Christ has put into making us, His masterpiece. He's constantly working on us, removing the parts that aren't quite right, painting over the blemishes and mistakes and creating something so beautiful that He delights and takes joy and pride in. We are a constant work in progress, but we are beautiful.
Let's take the next few minutes to reflect on our lives. Where are we? Are we letting Christ be the artist? Is He in control? Or are we taking things into our own hands, maybe not doing what we know Christ wants us to do. Let's ask Christ to once again create in us a pure heart, to remove those blemishes and restore us, His masterpiece.
Close in prayer.
 "Create in me a pure heart, O God, and renew a steadfast spirit within me."

(Psalm 51:10)